Last Friday we were lucky enough to go to the Paralympic Games. We managed to see three Wheelchair Rugby games and a couple of Goalball games.
It was a fabulous day.
Yes, I know this is off topic for the DBN blog, but I thought it would be worth putting down a few words from our day at the London 2012 Paralympics.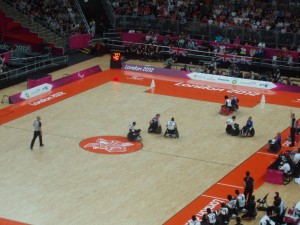 Wheelchair Rugby is a great spectator sport. All action, fast, lots of goals. The three games we saw were:
Australia vs Belgium – Belgium did their best, but in the end were beaten by Australia. Seems understandable, if you've watched Ozzie Rules football, you would understand that Australia would enjoy Wheelchair Rugby.
Canada vs Sweden – a close game, but Canada were able to put Sweden out.
And in the afternoon, GB vs Japan – So we got to sing the National Anthem. In this game I got the impression the referee wasn't as well up as some of the GB players on the rules.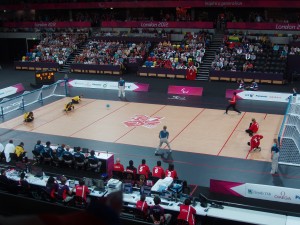 After the Wheelchair Rugby and a bit of a walk around the Olympic Park, we watched the Goalball. This is another great game for spectators. But very different from Wheelchair Rugby. It is aimed at players with visual imparement and all the players are blindfolded to ensure they can't see at all. As they rely on listening to the ball (which has bells inside), the audience have to be quiet while play is in progress.
We saw:
Turkey vs Lithuania – Turkey managed to beat Lithuania.
And Finland vs Brasil – Brasil were convincingly beaten by Finland.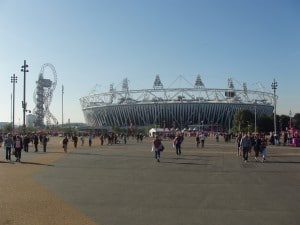 Everything about the event was very well organised. The Games Makers do a fantastic job. They are all so cheerful and very helpful.
The Olympic Park is huge but beautifully presented with a lovely park area in the middle and fountains of water that spelt words out under one of the bridges. The weather helped us enjoy the day, with wall to wall sunshine and temperatures in the mid 20's – at least that's what they were telling us but it felt hotter as we walked to the different venues.  As night fell the place took on a party atmosphere with live music, crowds of people dancing all in the shadow of the main stadium looking glorious with its ever changing coloured light show.
We all had a great day and have got some great memories. But as the train in the morning left at 6:18am and we didn't get back until Midnight, it was a long day and we were very tired.