We have all now graduated.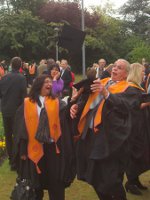 The De Montfort University Graduation Ceremony took place on Tuesday 19th July. We are really proud to have now got our qualifications: University Certificate of Professional Development (UCPD) in The Commercial Use Of The Web.
A big thank you to all at The Axis Centre in Beeston.